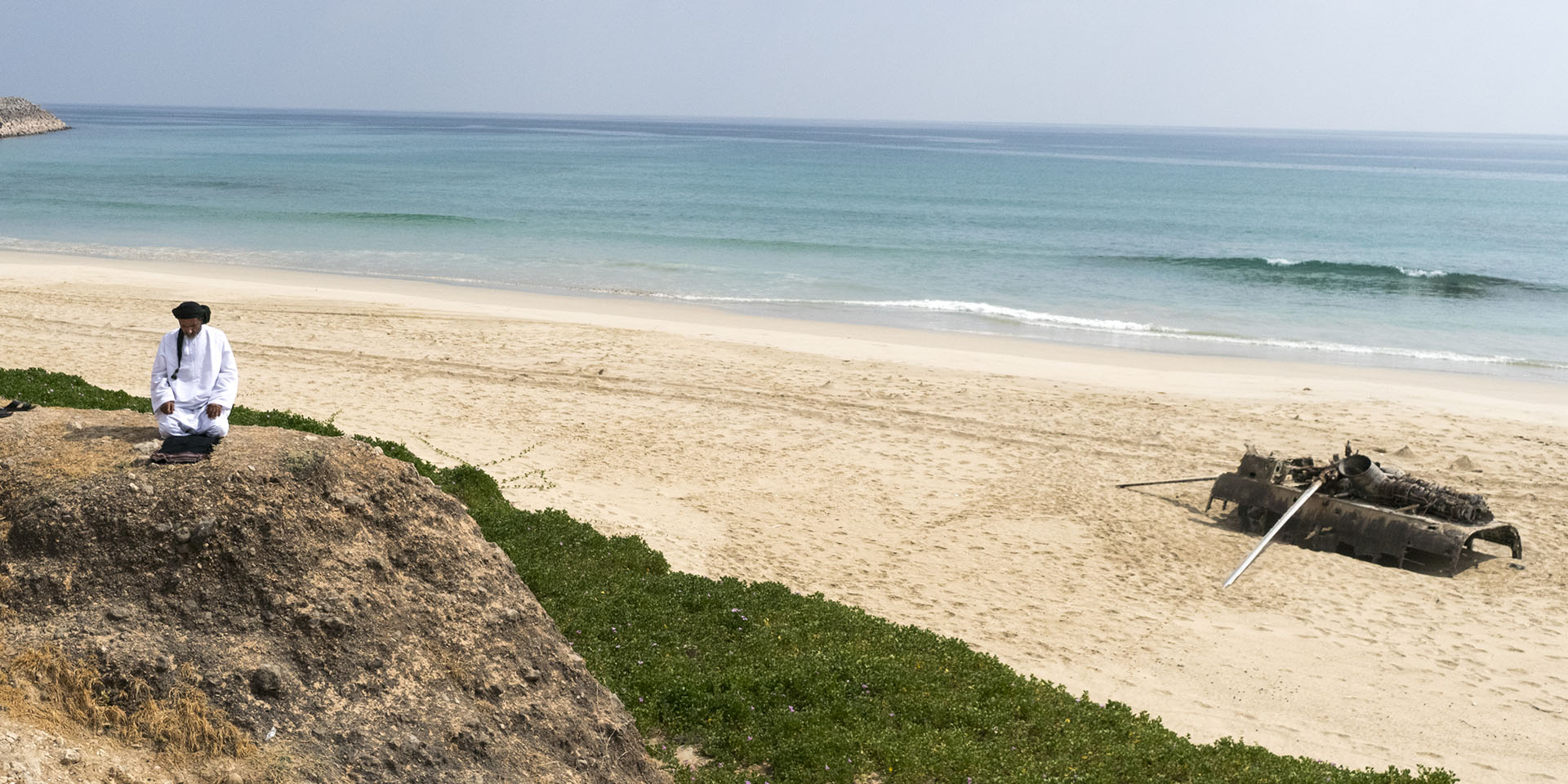 In season, Salalah is a lush, green Arabian paradise: beaches surrounded by bright green grass and hills that wouldn't be out of place in Southeast Asia – but with camels. Yes, Oman's south can be an inspiringly beautiful place in the wet season. I was there in the dry season.
That lush grass and sprouting flowers seemed like a faraway fable: replaced by dust and ash. The only water is in the salty sea and a muggy, dense fog that obscures everything and then rolls out just a few minutes later. It is, in its own way, quite magical – but more for adventuring than lounging.
There may not have been much nature, or grass, or heavenly beaches, but there was Highway 47 leading all the way to Yemen.
HIGHWAY 47 AND THE CAMEL CONNECTION
Now, of course, my two traveling companions and I didn't have the visas, prep work, or perhaps even the nerve to head into a dangerous, ISIS-addled hotspot – at least not for a daytrip. The road to Yemen, however, features scenes of rocky desert, beaches strewn with remnants of war, and a very curious section of road.
Staying at the luxury Al Baleed Resort Salalah – which, in truth, is no slouch even in the arid season for wadi scenery – we had just one day left in Oman. The road to Yemen seemed like a natural adventure after a three-day junket. So, we rented a driver and set out for the border.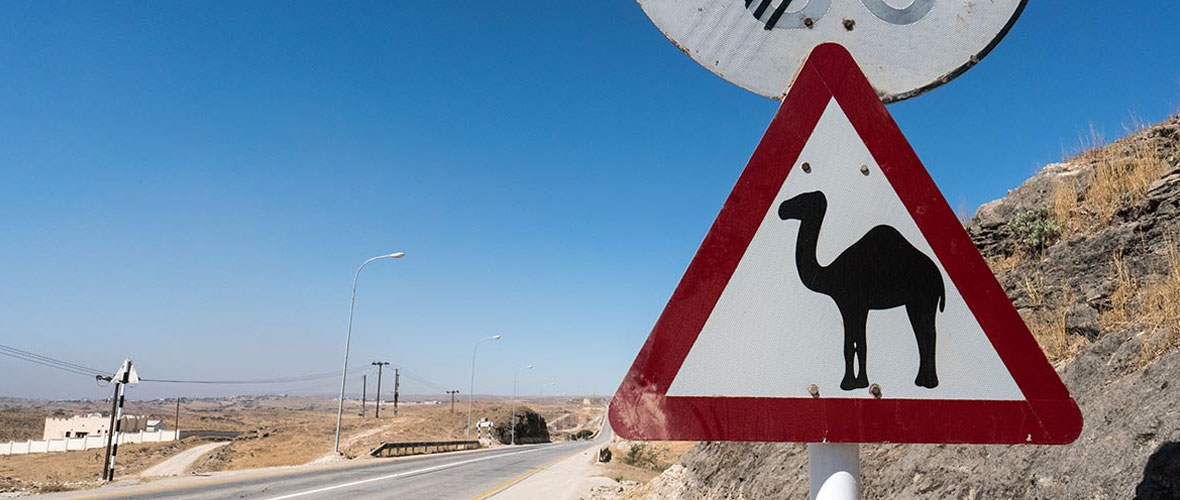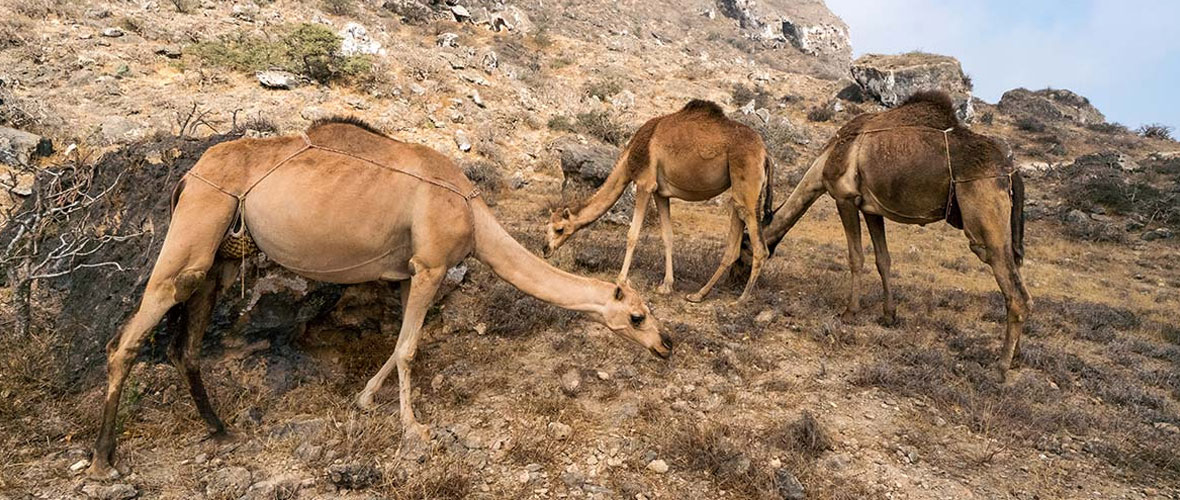 The highway to Yemen runs along Oman's southern coast, and while the dry season is devoid of grass, camels seem to make their way everywhere along Highway 47. We stopped to see quite a few herds, my party standing by as I chased them with my camera on a gimbal. They lope in the streets, on the beaches, and through the hills. Despite having seen my share, I found myself fascinated by their long necks and goofy faces.
That said, I wasn't fascinated enough to not consider eating them. Rather a big deal was made of trying camel meat on the journey. However, when we finally found a spot to do so, the condition of the meat left us a little standoffish – entirely standoffish, in fact.
MOUNTAINS TO THE FURIOUS ROAD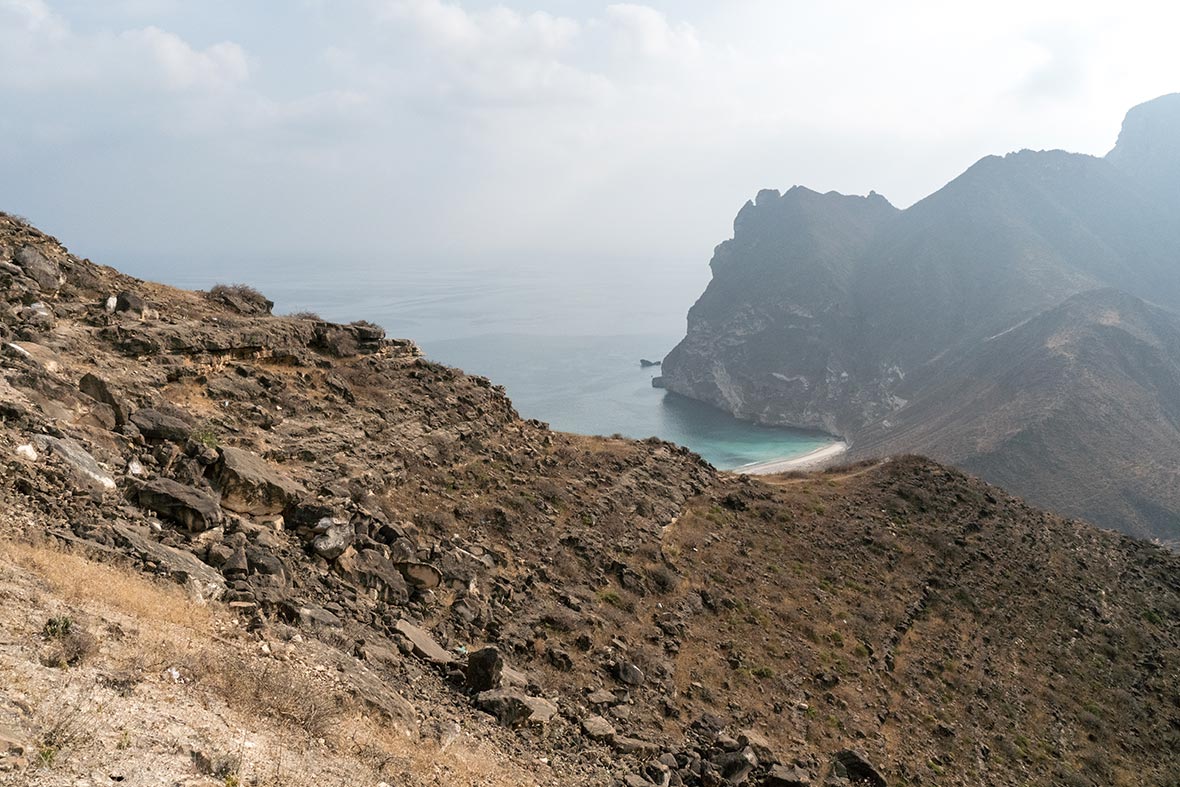 As we journeyed across the southern coast, there were quite a few famous beaches around Highway 47. Oman's southern beaches in the dry season are short expanses of crystal blue and green water surrounded and brown mountains.  The most famous stretch of coast along the As Sultan Qaboos Street is the Mughsail Beach, which features miles of pristine beach.
Our destination, however, was the border to Yemen, so we took little time to admire the gorgeous waters closer to Salalah. Just 10 kilometers from that famous beach is a section of highway known as the Furious Road. The film jokes aside, the Furious Road leads up 400 meters over the course of three miles. A spectacular, terrifying marvel of engineering, the road is steep curve after steep curve through some of the highest mountains on the Southern Omani coast.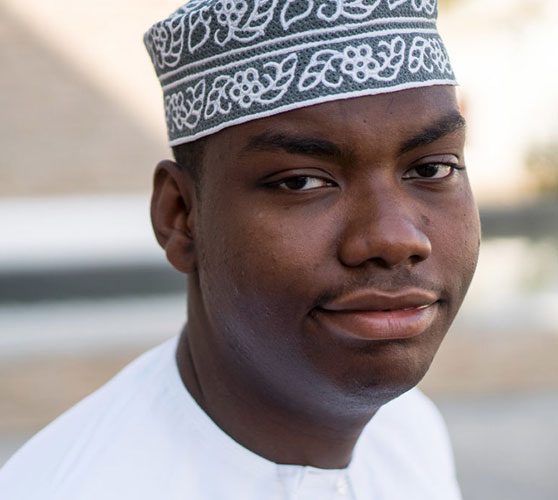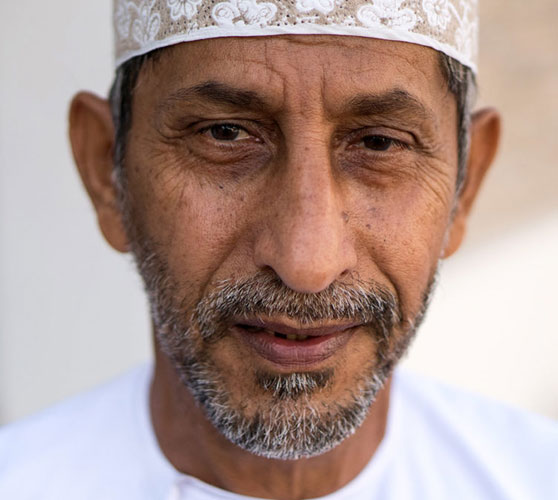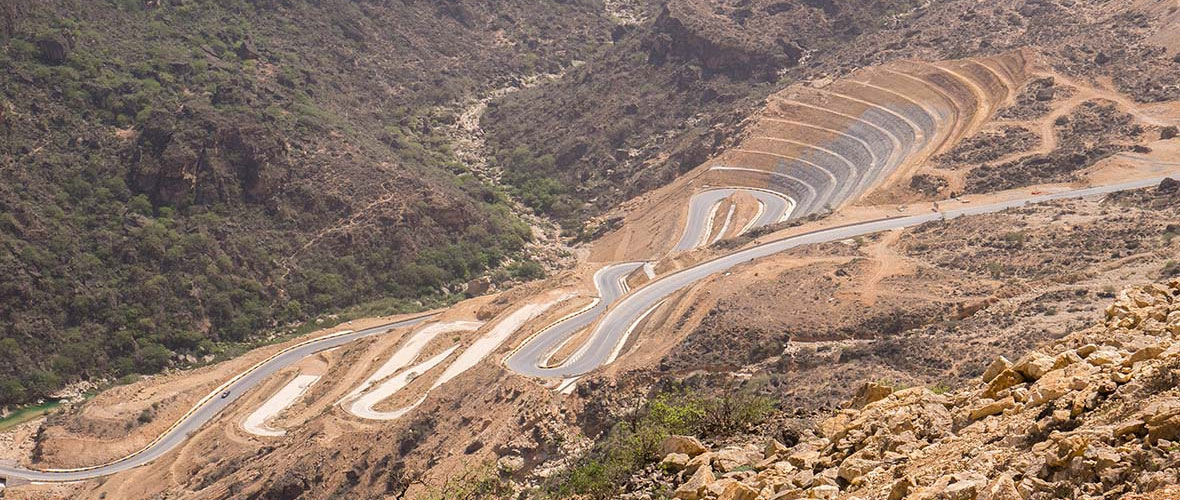 Going further on, Oman takes on more of a frontier feel: small towns, empty roads, and signs for Yemen start to appear along the road. After a military check point, where we had to stop the car and soldiers searched the vehicle, the road turned decidedly more mountainous.
THE CURIOUS CASE OF THE CRASHED CHOPPER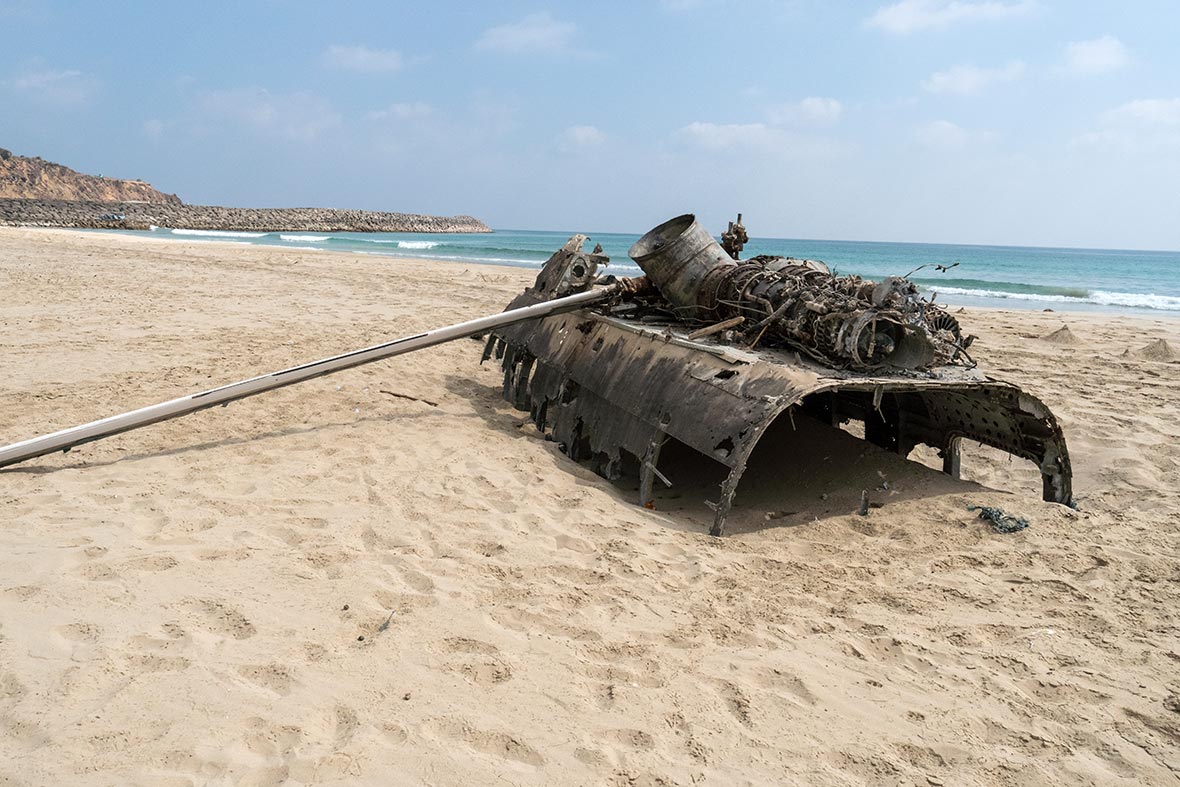 As we drew closer to the border with Yemen, we entered Dhalkut. And here, we would see something stranger on a beach than camels. More specifically, there are remnants of crashed, beached Russian Mi-8 helicopter. I have yet to be able to ascertain the cause of the wreckage, most likely in the civil war, but it is an undeniably curious sight to remain on what would otherwise be a peaceful Omani beach scene. We were the only ones there, not a soul in sight.
The engine sits on the roof, a propeller hanging stiff to the side. Scraps of metal poke through the sand. It's something one might find on a post apocalyptic film set. But, then again, it all started to fit. We were approaching an area in deep conflict, a place where we were not prepared or allowed to go.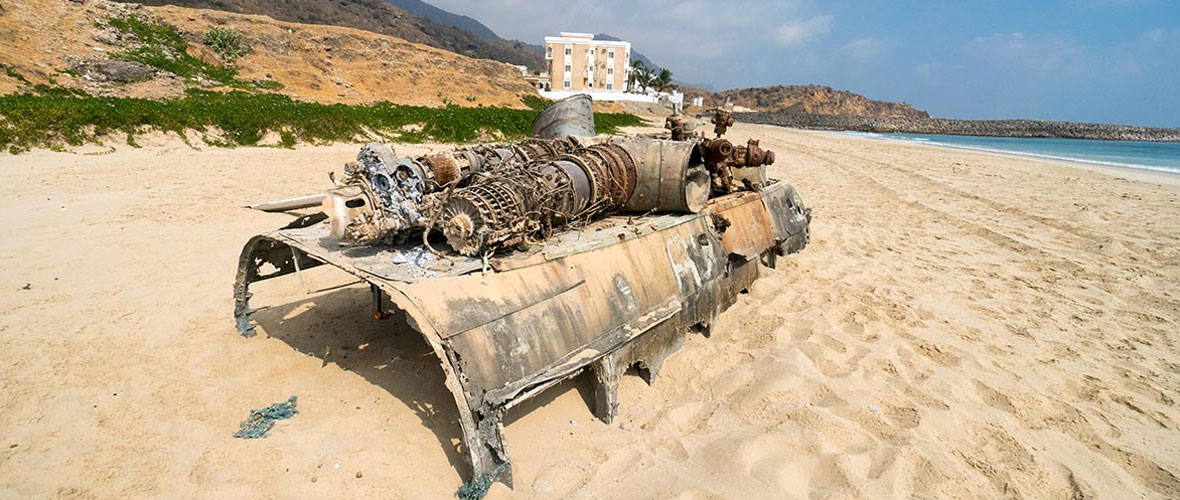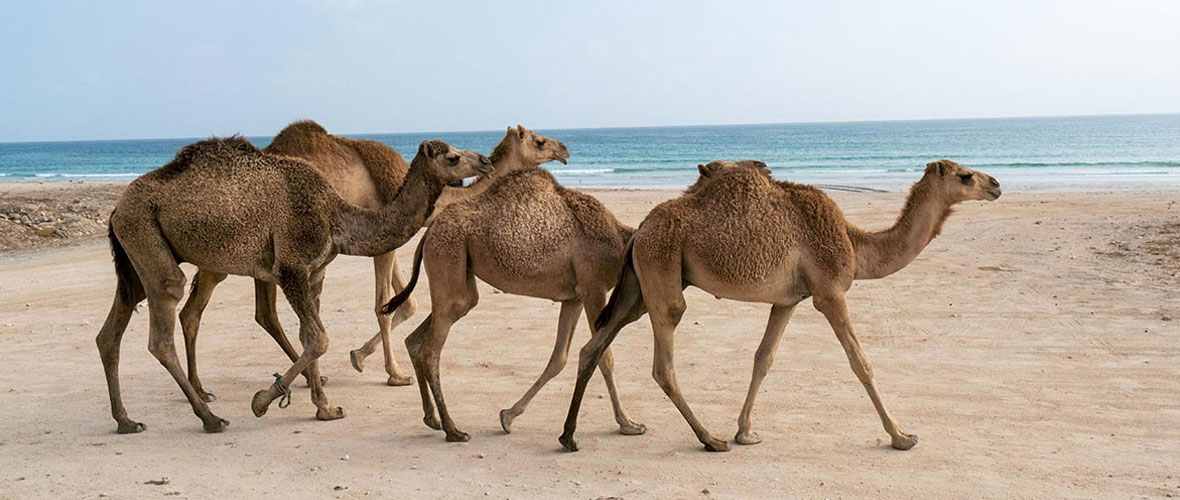 This glimpse of Yemen seemed like the very end of the Earth.
The sky seemed replaced with a darker one, and the tumultuous modern history of the region seemed palpable. Our driver and guide took time out here to pray. The wreckage lay lifeless next to his sincere, careful prayer.
THE FORBIDDEN BORDER TO YEMEN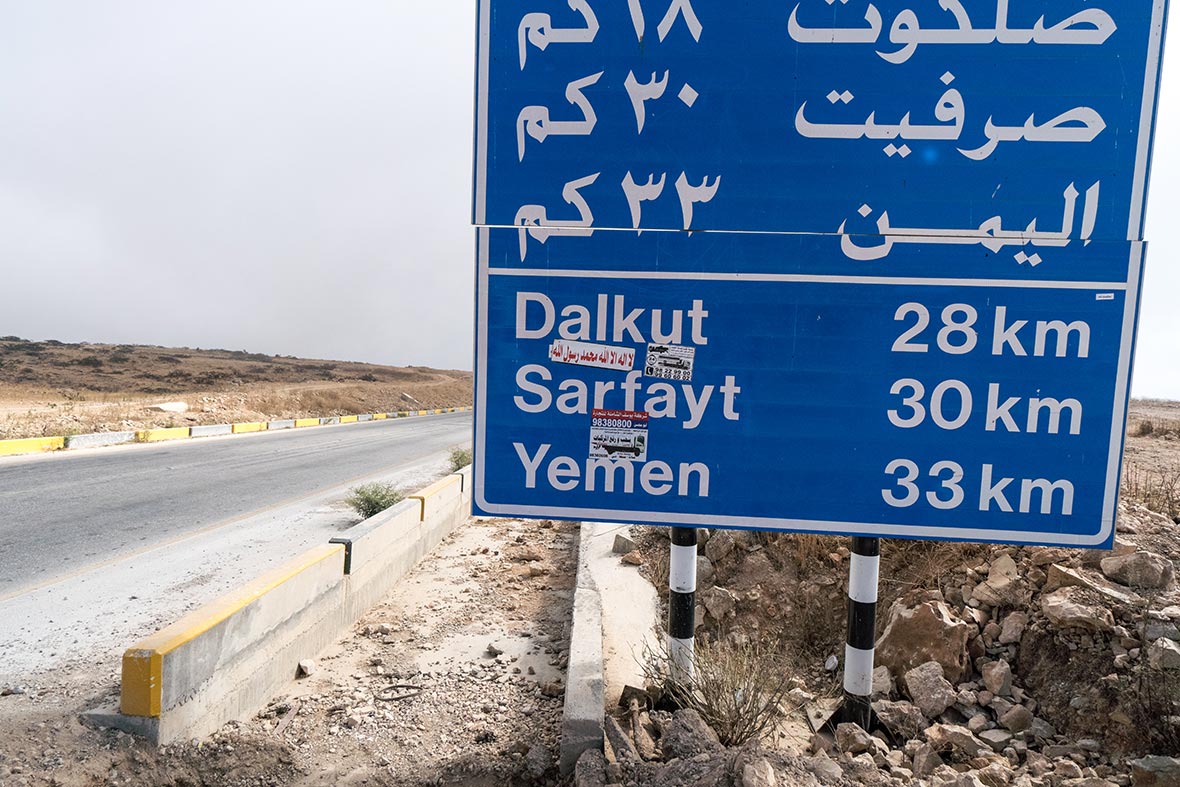 We didn't expect a confluence of people crisscrossing the border or military blockades, but our first view of Yemen was surprisingly tranquil. At a view point, there is a wall where travelers can stare down into Yemen from Oman – scenery not that different from what we had already seen along the drive.
Indeed, that impenetrable fog moved in quickly. Little could be seen through the gray, opaque mist. We had traveled all the way for a peek at Yemen and a peek was what we got – disappointing in a way but also adding to the mystique. We had traveled through dry mountains and helicopter wrecks on the beaches. This glimpse of Yemen seemed like the very end of the Earth.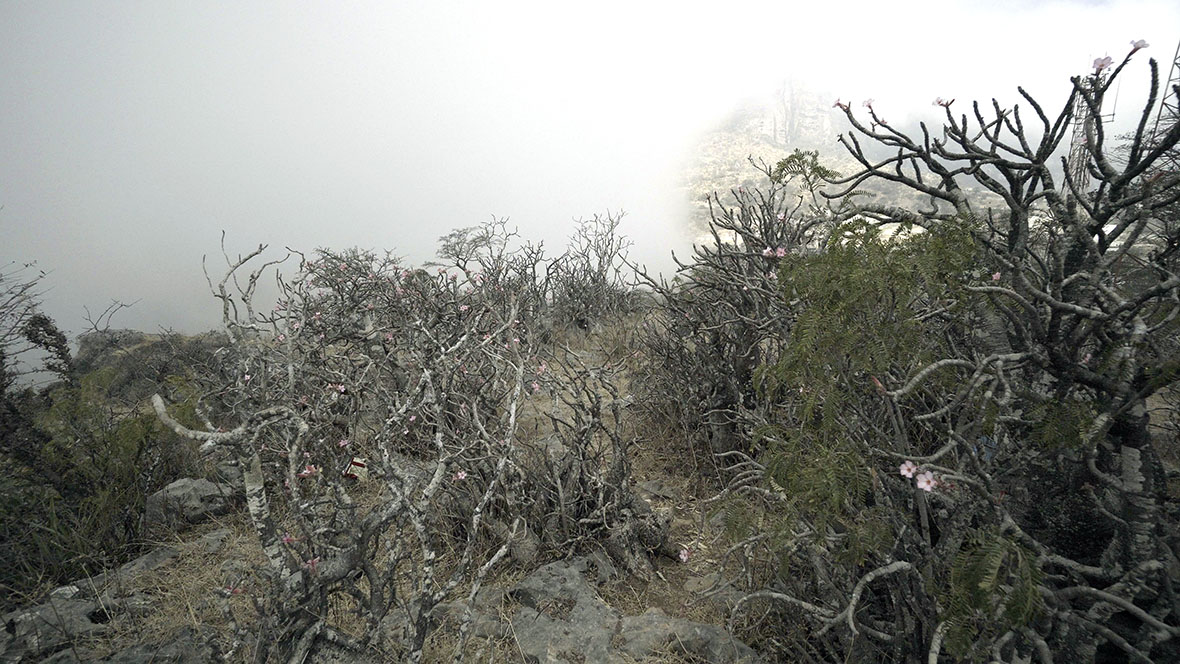 An SUV full of Yemeni people pulled up and got out of their vehicle. The driver told us not to speak to them.
After the lookout point, we drove almost all the way up to the border. Travelers are not allowed to take pictures, but where the road ended, there was a machine gun nest. This was a serious place. It wasn't a place to cross. It was a place to keep Yemen out.
The drive there took only about three hours. We arrived back in Salalah, a little worse for the drive, a little better for the experience.