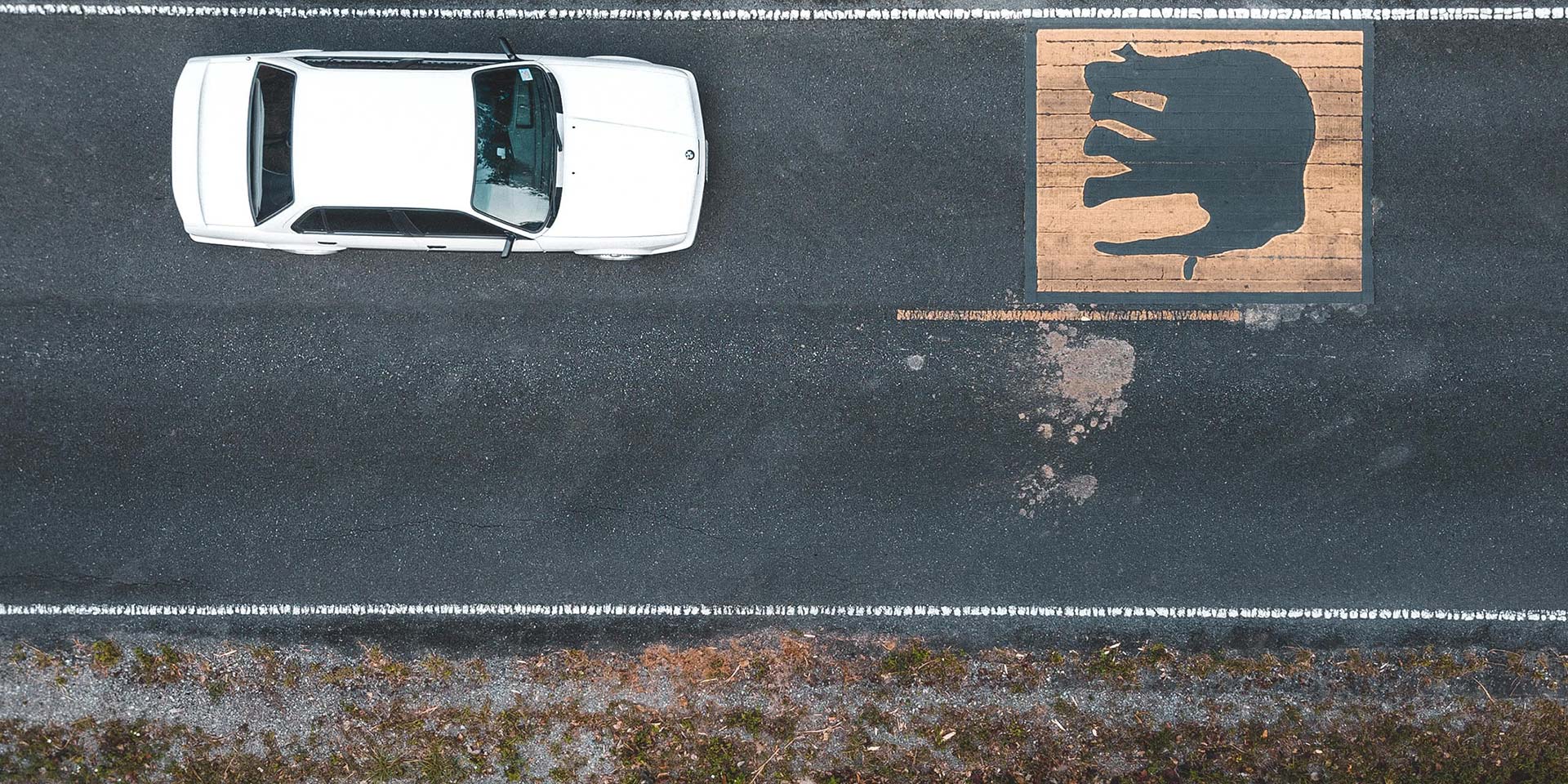 It's hard to imagine, but one of Thailand's most impressive national parks lay not in the turquoise waters of the southern Andaman sea or the lush northern mountains, but in a verdant forest just two hour's drive from one of the biggest cities in Southeast Asia. Home to elephants, gibbons, and all manner of flamboyant tropical birds, a road trip through Thailand's third largest national park is an easy, rewarding rite of passage for long-time Thailand travelers.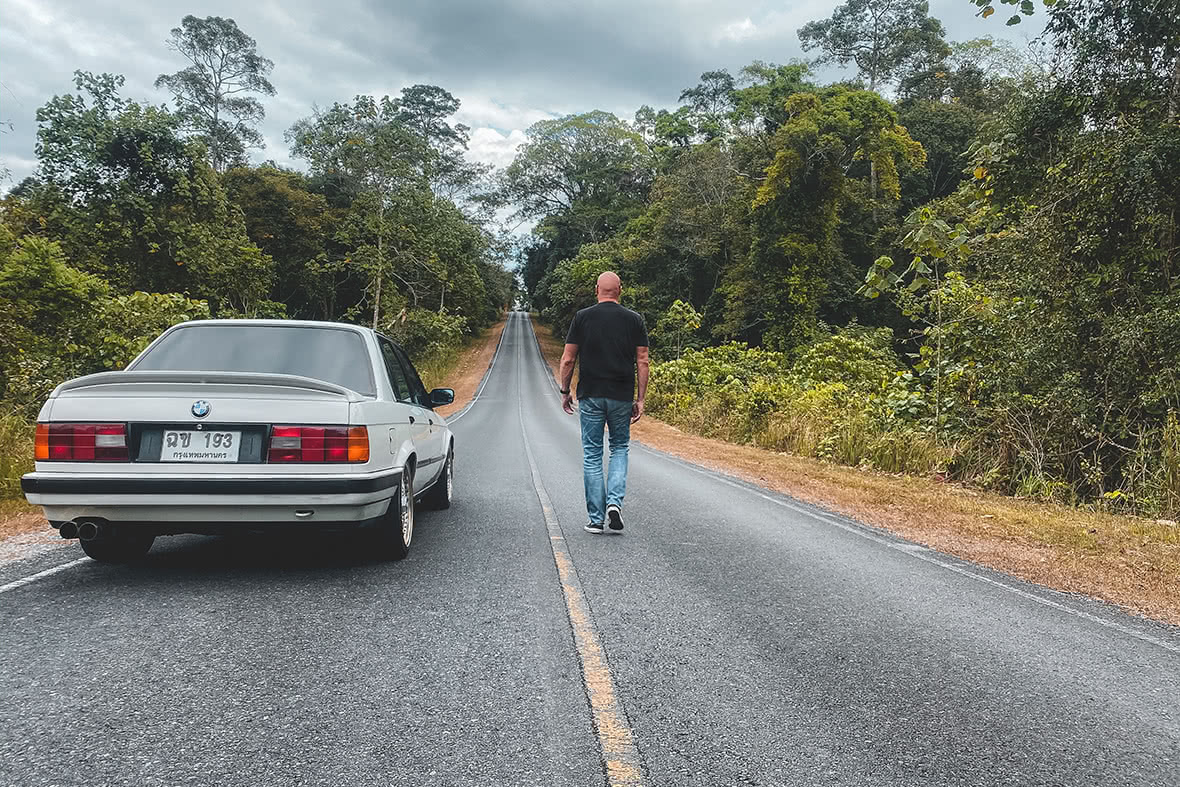 As a resident, however, I can't recommend Khao Yai as somewhere "two hours away." It's true you can reach the much-lauded northern reaches in two hours from Bangkok, filled with vineyards, fine hotels, and mountainside restaurants; however, the best way to reach Khao Yai is through the south, a serene drive through the Thailand countryside.
Rather than being bullied around by large trucks on raised expressways ripping through the verdant majesty of Thailand, travelers can take a slower route to the park's southern entrance. The reward? One of Thailand's best national parks and a wildlife refuge on the open road — all to yourself.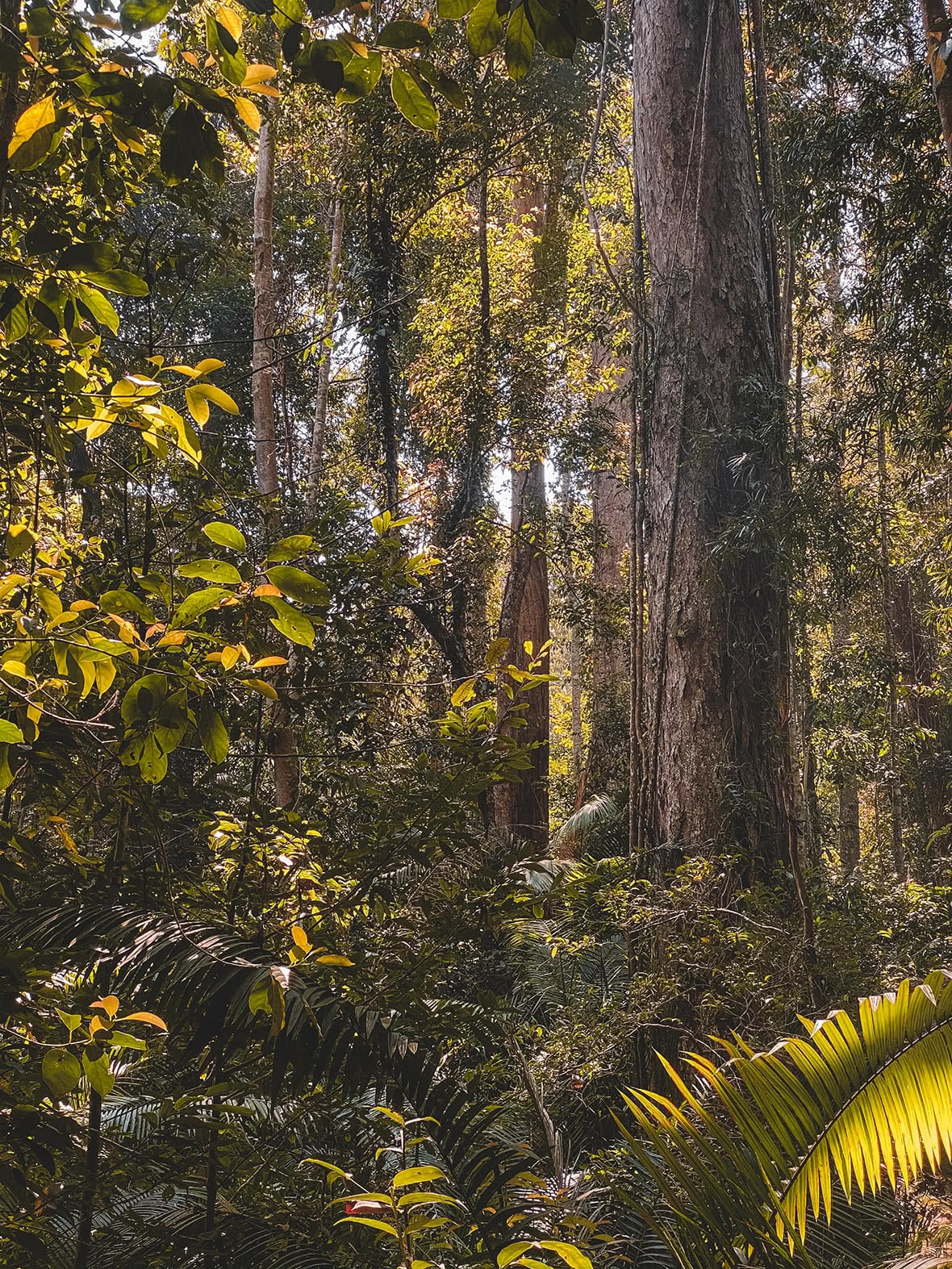 Forest thicket in Khao Yai.
For this, travelers will need to rise early in Bangkok, perhaps around five or six in the morning, and head east. Skyscrapers and dense traffic give way to streetside shops and homes, eventually leaving nothing but Thailand countryside, tracts of flat, open farms and fallow fields flanking forgotten small-town temples. Along the way, roadtrippers can stop to buy fresh fruit straight from the farm — including durian for the adventurous eater.
Along the way, drivers will follow along the Bang Pakong river as it slithers from the waterfalls and rivers further east. Locally, these waters are famed for their barramundi fishing and freshwater fish farms can be spotted along the way.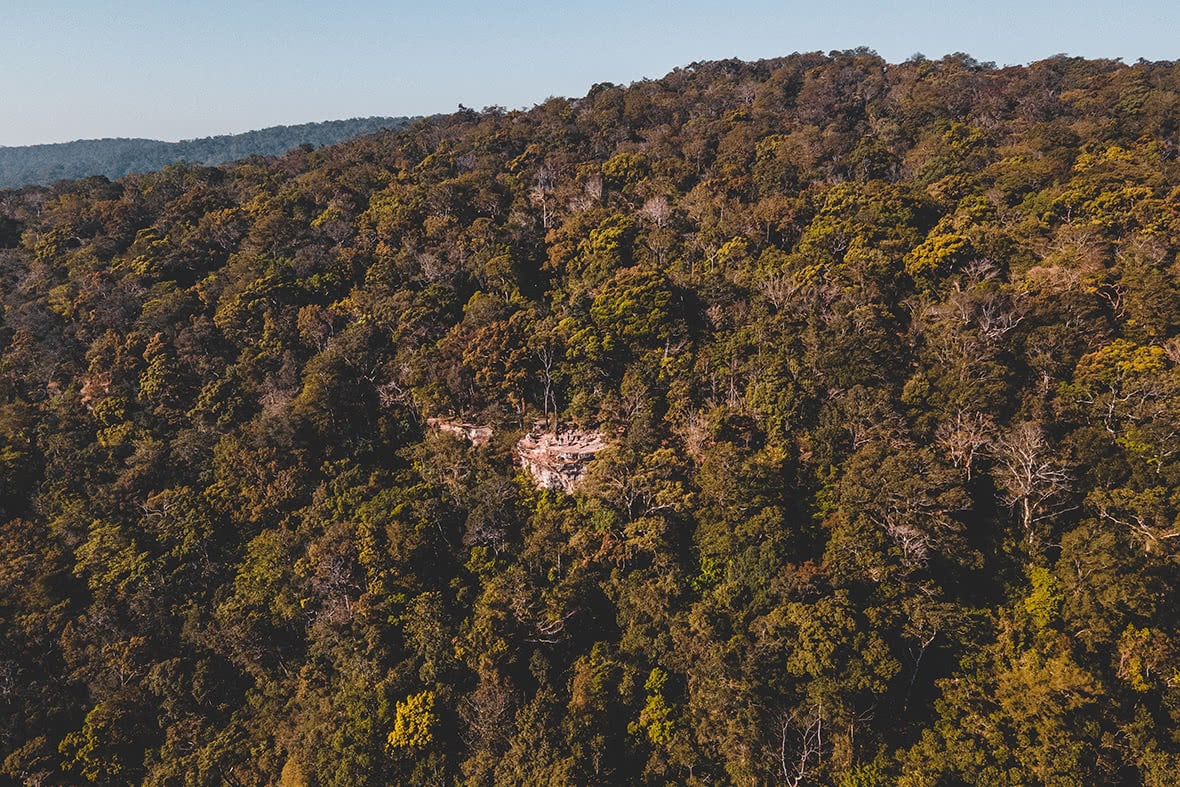 The end stage of this section of the road trip is not a hotel, but the southern reaches of Khao Yai itself. This is the much less visited section of the national park, and if travelers woke early enough in the morning, they should be able to reach the park's entrance at around 8am for a leisurely drive up Highway 3077. My favorite part of this drive, if taken early, is the sunrise, a big orange sun rising out of the jungle mist on a completely empty road.
This foggy highway bisects the national park and is the only way through — paved, well-maintained, and stunning, no 4wd required. In fact, these roads feature in some of Thailand's most famous nature photography: a family of elephants walking down perfectly paved roads is the dream shot of many a traveler to Khao Yai. Regardless of whether or not you see elephants you'll definitely get some of the evidence they leave behind on your tires.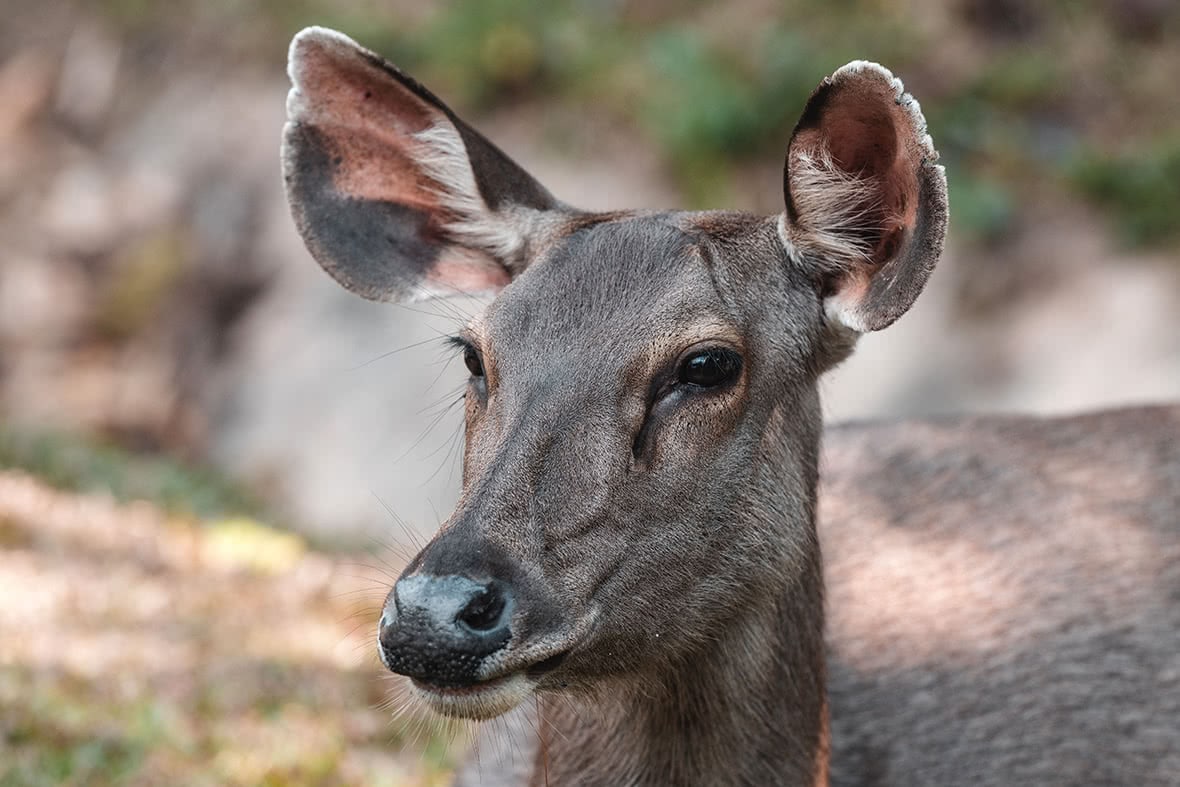 Beyond the elephants, the gibbons are a real treat of Khao Yai, particularly for those entering through the south. On my last journey through the mountains of the national park I managed to see a gibbon for only a few seconds but couldn't snap a photo in time. The sound of the gibbons, however, will decorate your mornings in Khao Yai and indeed much of your time in the thicket.
I was pleased to find a Northern pig-tailed macaque on my journey through Khao Yai. The long-tailed macaques, famously short-tempered and aggressive with tourists, are quite different, with the Northern pig-tailed macaque males featuring a broad face and curious eyes.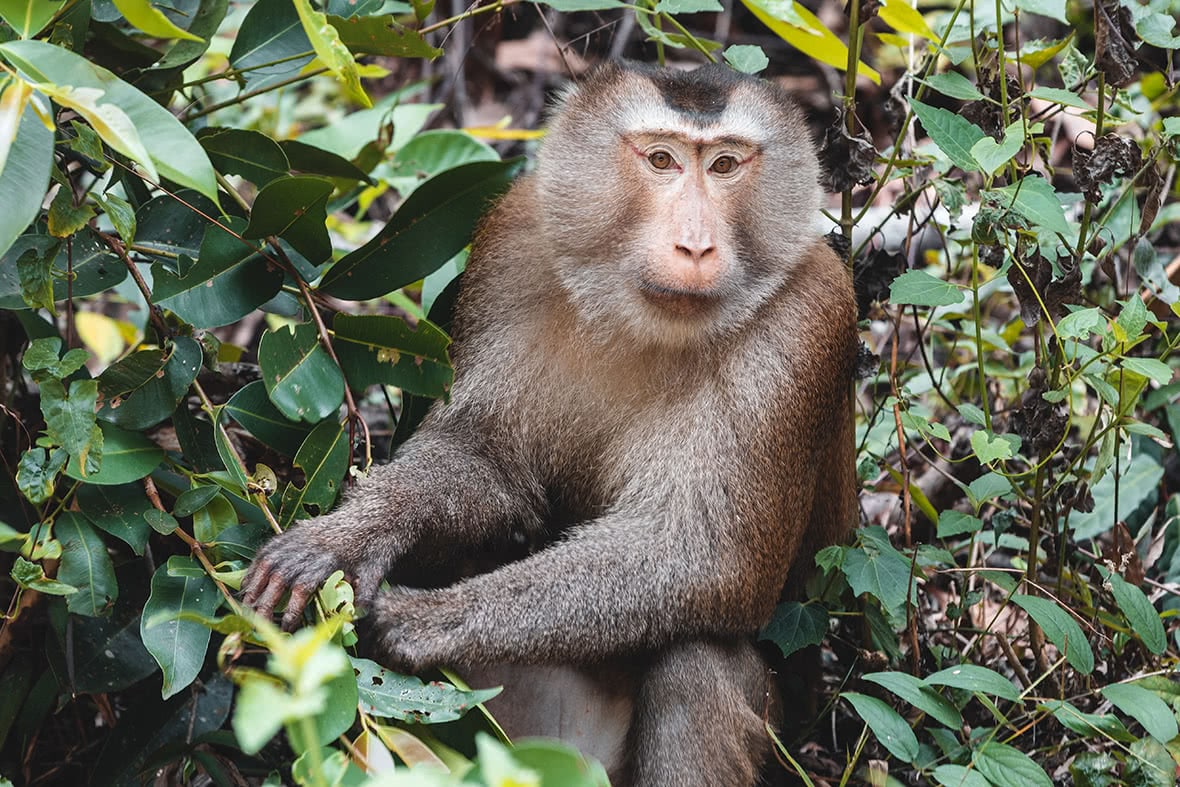 Northern pig-tailed macaque.
Elephants are fairly common though sightings are not guaranteed and travelers should practice extreme caution with their encounters; these are wild animals. Only one day previous to my latest visit an elephant killed a man at a campsite in Khao Yai.
Deer can be found throughout the park, but on my most recent trip I was also treated with a visit from a serow, a somewhat rare goat-antelope found throughout the Mekong region of Southeast Asia from Myanmar to Vietnam. Black and brown with sleek horns, it is an utterly unexpected (though friendly) sight.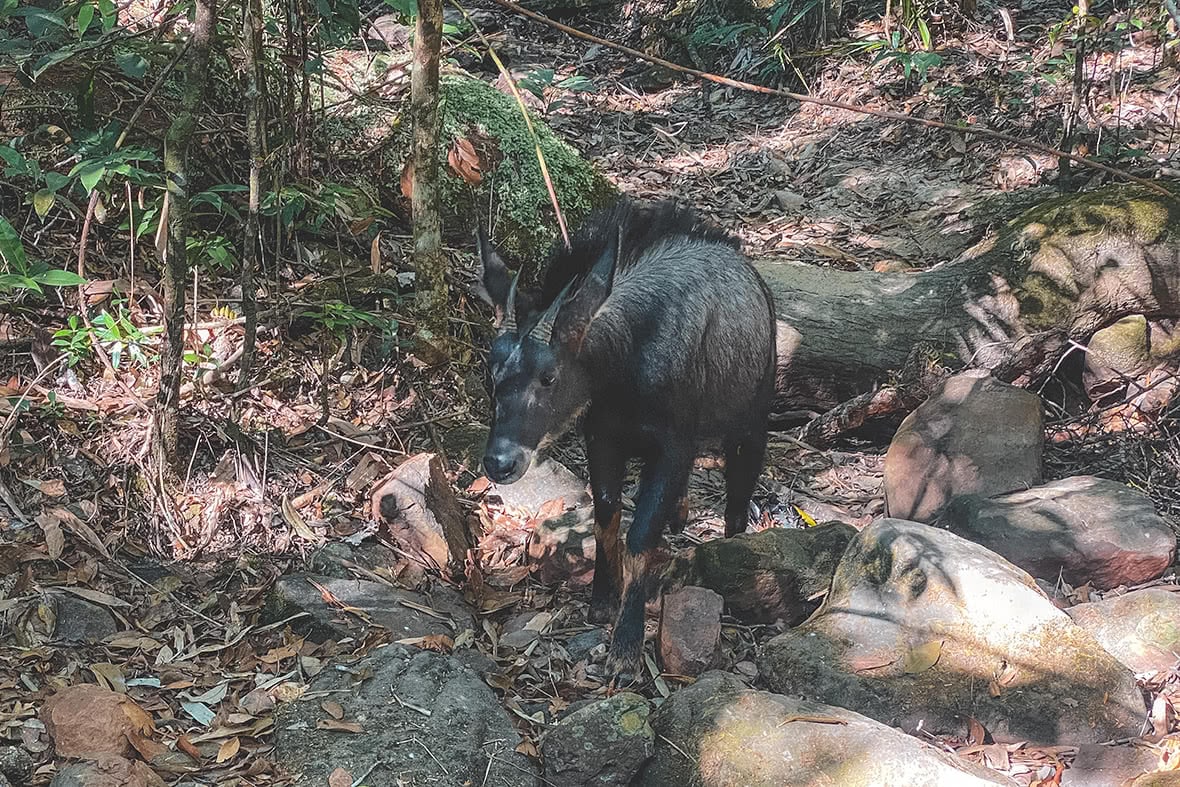 Once inside the park, travelers have their pick of waterfalls throughout the park, some found on 10 kilometer hikes through the thicket, others conveniently near the road. My most recent hike took me from the visitor center and came out near a wildlife viewpoint, a structure set up near a lake for people to observe the animals that come from the jungle forest to drink.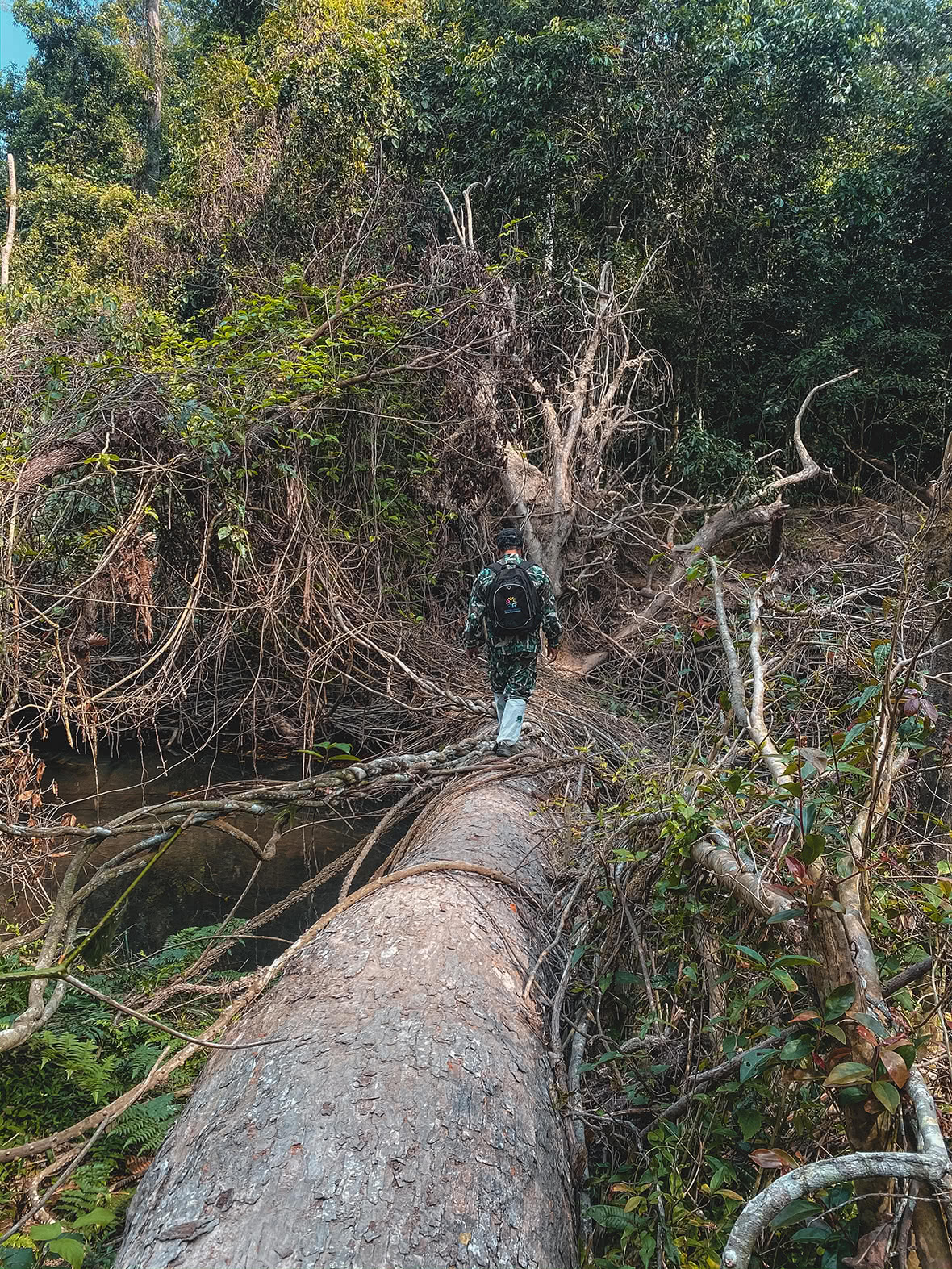 Hiking across a fallen tree.
More easily reached is the Haew Narok waterfall, which is one kilometer from a parking area and likely the first travelers will visit when entering from the south. It should be noted that during the extremes of the dry season these waterfall hikes, water may not be flowing through the waterfalls, but the stark cliffs leading to the dark waters below still make for stunning photography for those with drones.
Haew Suwat waterfall is another easily reached must-see landmark, where white water arcs out over the rocks into a placid pool.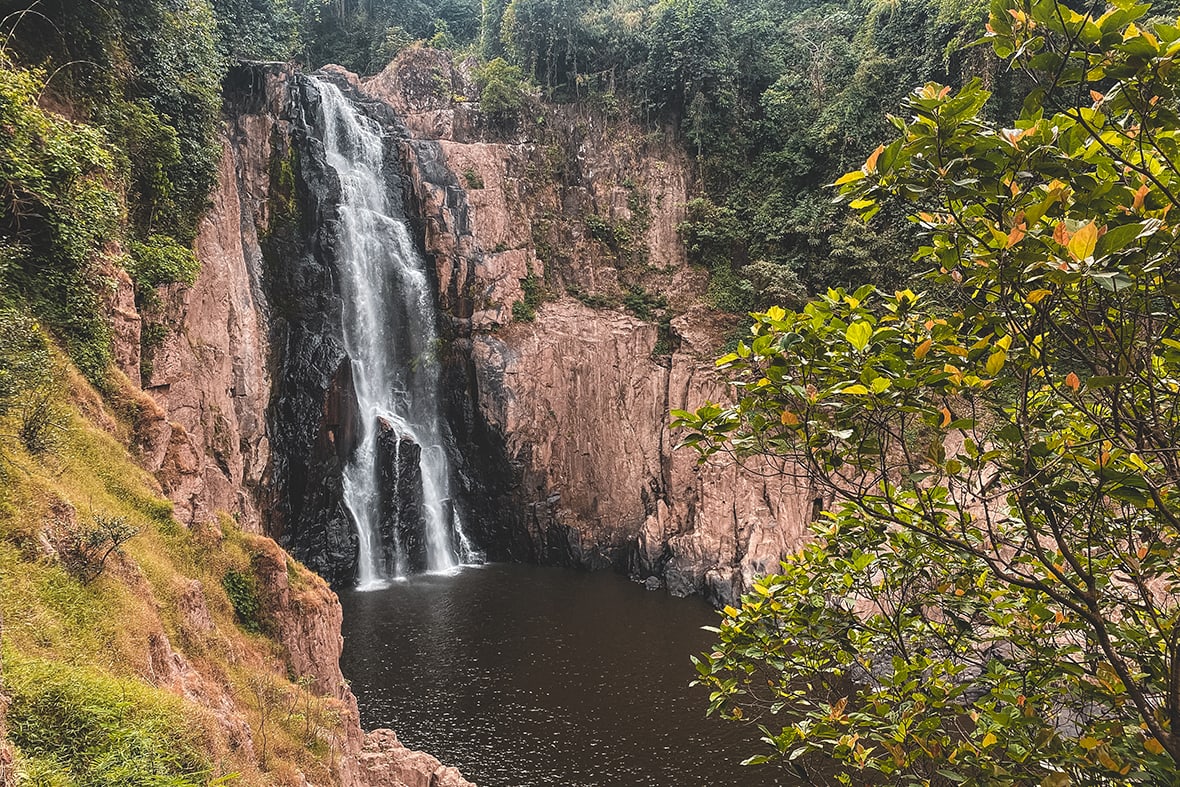 If done properly, visitors should have been able to experience the park at its absolute best, meaning relatively free visitors, and be ready to bed down in one of the many hotels in the north. Up here, the world is a little more different — top-shelf wineries, tourist attractions, ATVs. It's still quite peaceful, but a whirlwind compared to the winding mountain jungles below.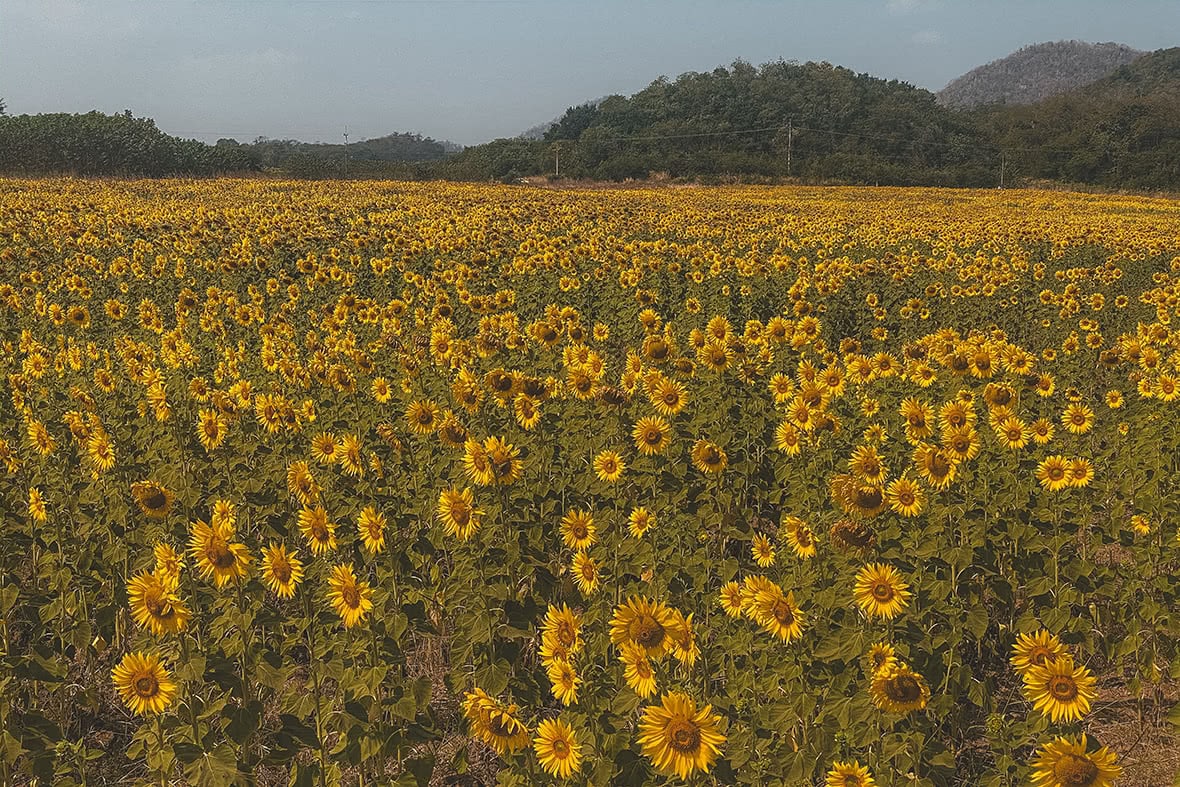 Manee Sorn Sunflower Field.
A favorite on the north side of Khao Yai, especially in these Instagram-heavy days, are the sunflowers found at Manee Sorn Sunflower Field, where travelers can photograph bright yellow sunflowers all the way to the horizon. 
Khao Yai is developing quickly, including the 2021 inclusion of the railway themed Intercontinental Khao Yai Swan Lake Resort designed by award-winning architect Bill Bensley. Covid has slowed down the pace of an already sleepy place, but, as with so many places around the world, the best time to see it is as soon as possible.